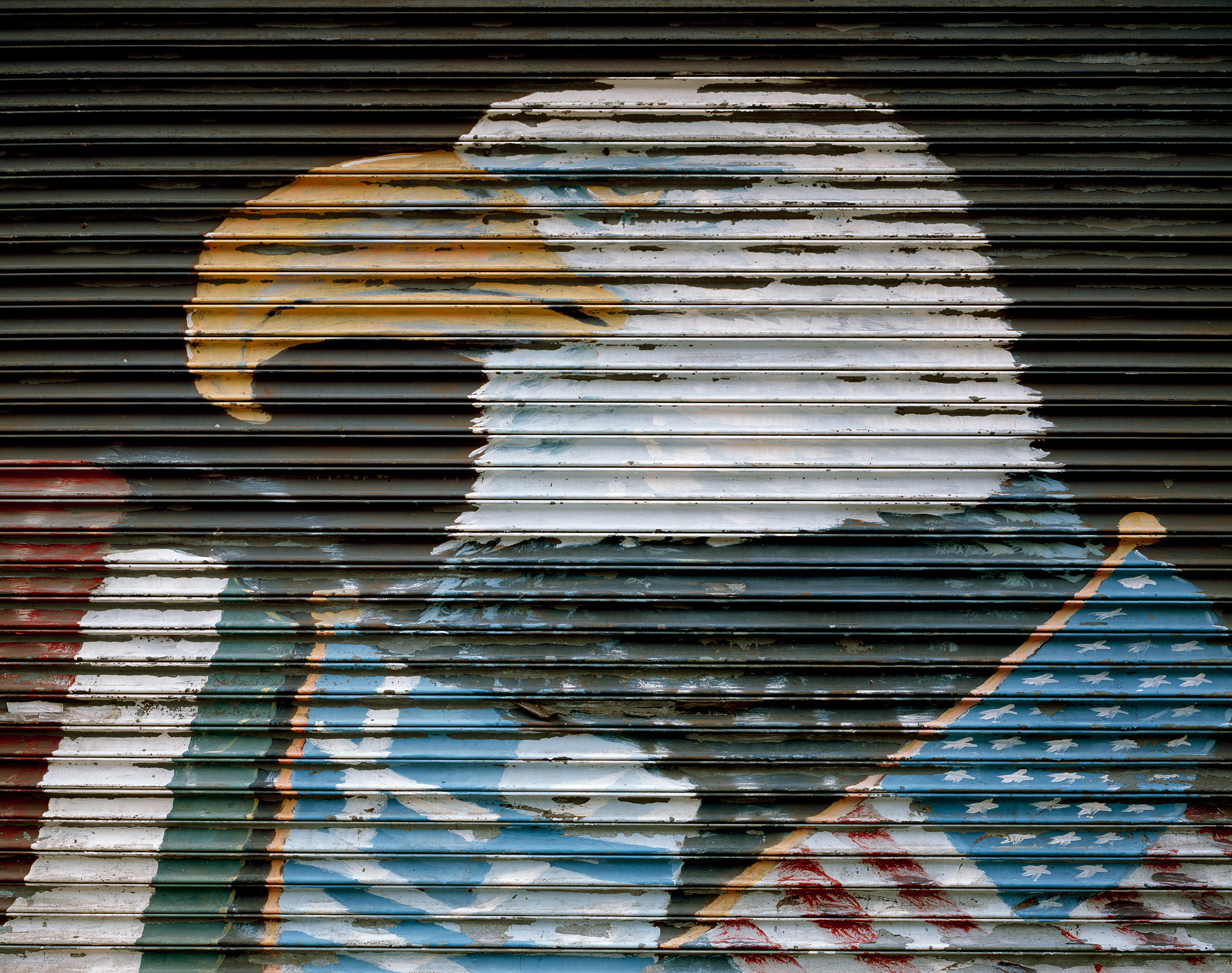 Broadway and 21st St., Long Island City, 2017
Italian Greek and American flags along with the American Bald Eagle represent the proud communities that once populated Astoria and Long Island City.
History Repeats itself, Astoria, 2017
Willow Lake pedestrian bridge over Grand Central PKWY, Queens, NY, 2017
Washed ashore flower, Dead Horse Bay, New York, 2017
The Last Fire Squad, 2017 (miniature)
A first in a series to come that is set to examine the psychology behind the aesthetics of execution facilities. This one is based on the last, still operating, execution by a gun facility in the United States. Nothing is a coincidence when the sandbags, platform, chair and straps are all painted black and then placed in a bleak white room. The design echoes the sadistic mind facilitating the execution
Mechanic Shop, Astoria
I decided to go an get images of places in New York City that quietly represent the bigger apple. As gentrification intensifies the city turns one dimensional and in turn loses its true cultural diversity and vitality. If I won't take this pictures I can't be sure someone else will. When billions of images are made every year, we are mislead to think that everything that can be photographed already was photographed. Not like this, and not with this intent.
Celin Auto Electric, 3906 10th Ave, New York, 2017
Celin Auto Electric, 3906 10th Ave, New York, 2017
Manhattan Bridge, 2017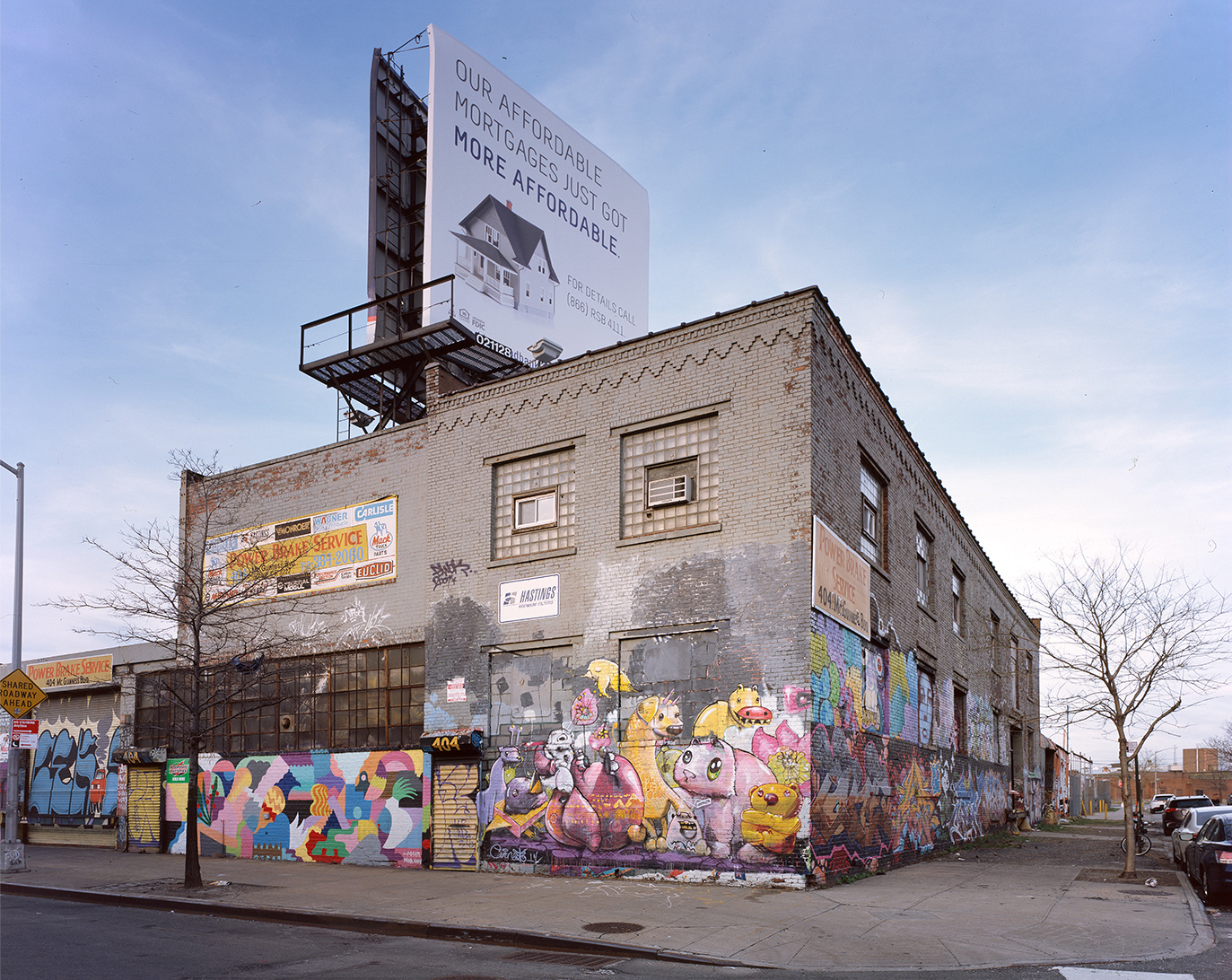 Power Brake Service, 404 McGuinness Blvd, Greenpoint, New York, 2017
A view south, University Heights Bridge, New York, 2017
Bobby Fish King of Clams, NYC Freshest, 421 W 207th St, New York, 2017
148 W 28th St New York, 2017
Camels Up hill, Queens, New York, 2017
Reimagining Eggleston, 2016
Foliage, 2016
"Foliage deals with the fetish and romanticism of the Fall season. Specially regarding the medium of photography where depictions of foliage that represent the Fall are printed on paper - AKA trees - which is ironic, amusing and also sad. But in a more serious tone the cycle of seasons is interrupted by the attempt to depict them in photographs. Foliage is a dead leaf that I picked at Forest Park, Queens. I laser cut out of it small leaves, based on its shape and from other leaves based on their shapes, to generate miniature foliage on the bottom of a shadowbox frame - sort of cannibalizing the a single fallen leaf into making a depiction of foliage.

At the same time this piece resembles the natural cycle of trees shedding their leaves to save energy for the winter and fertilize the ground to support their own regrowth, and then also this piece examines the accumulation of dead leaves into the fetish that is foliage - which should not be undermined!
Queens Blvd, 2017
Night Vision, 2013
POSTED PRIVATE PROPERTY, 2016
Willow Lake, Queens, New York, 2017
Upstate, New York, 2016
Bernie, New York - Connecticut border, 2016
Idol by Cross Bay Bridge, New York, 2016
In a city of 10,000,000 people with long and rich cultural history it is hard to find unmarked and unclaimed grounds. On the thin margins of the five boroughs where concrete still doesn't meet the water or sun umbrellas the sand the soil under is still up for grabs.
Mini Storage, 2016
Overlaying Memories
this is a the caption of the image
Not Yet Pennsylvania, New Jersey, 2015
I often use Google Maps Street View to find potential roads to drive through on a road trip. Where Google Street View doesn't cover I can tell it is rural, remote or just unpaved roads. I am a foreigner in this country, and I learn to know this nation through its roads.
On my GPS I use the "Winding Roads Maximum" settings and mark few locations on the way to our end of day destination. This way I get off the highway and see the country side. It feels more like an adventure, but in reality for other people it is everyday life.
This picture was taken as I thought we've already crossed New Jersey to Pennsylvania right after sunrise in a foggy late spring morning. My phone location tagging proved me wrong. What I imagined to be Pennsylvania in its full glory was still the Garden State. I often make jokes of New Jersey, they are ones that I borrow from the culture surrounding me, but the truth is that I haven roamed the state enough to give my opinion on more than the New Jersey Turnpike or the Jersey Gardens Outlet Mall.
So here we go - this is New Jersey in all its beauty!
Maine, 2015
A Better Me, Queens, New York, 2013
If my idea would have worked the picture would have failed. If the circle was perfect the image would not work. If not for the mistake in the exposure it wouldn't be the same. If not for wanting desperately to save this picture it would have been forsaken.
There is something wonderful, and something terrifying looking back at who you were and what you've made. I am very happy this one is one of its kind, yet I know it could not be reproduced. Not by technique and not by the artist who made it.
I used to write letters to other versions of me. Better versions from the past. So this is an ode to a better me from 2013.
Route 98, Golan Heights, Israel, 2015
Computer Generated Physically Built House, Pennsylvania, 2015
View No Longer Available, Pepsi Cola Sign Landmark, Hunters Point, Long Island City, New York, 2015 (miniature)
This is a more subtle version of my Pepsi Cola Sign miniature. I recreated the famous Pepsi Cola sign from chipboard standing on wood sticks as columns. This view once marked the journey of photographers to the gritty parts of the city. Long Island City that used to be an industrial area with cheap real-estate is now being rapidly gentrified. At first this sign was installed facing the people of Manhattan, but later it became famous for the photographs from its back side facing manhattan. Now only the residents of the high rise directly behind him can enjoy the juxtaposition of the sign with Manhattan's city skyline. For the rest of us we can visit the park and have a picnic directly under it on the well kept mowed grass. I took my miniature to that exact spot and recreated the famous view of manhattan from the back side of the Pepsi Cola sign using my scale model, revisiting a view made famous by photographs.
Riot (top view), Og River, Israel, 2014 (miniature)
Not My Childhood, Not My Memory, 2014
Non Site, Between Rochester and New York City, 2015 (miniature)
I ❤ MILK, Upstate New York, 2015
Merkava IV, Empty Living Room, Queens, New York, 2013